Help Us Send NVC Books And Learning Resources To Franca Onyibor In Nigeria And Spread The Spirit Of Peace And Empowerment!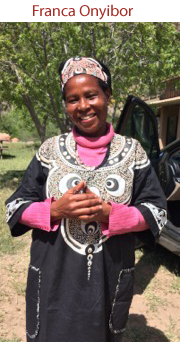 Read What Franca Has To Say About The Importance Of Receiving Marshall's Books:
"Those who are currently reading these [Non-Violent Communication] books tell me that having this opportunity to read directly from Marshall has increased their appreciation of the NVC process and consciousness. They request that I would extend their profound appreciation to each of you, their sisters and brothers across the miles. I join them to sing and to dance of our deep gratitude to each of you…….and for offering us this occasion of learning to receive with open hearts. There is no place in Nigeria to purchase any NVC books or other NVC resources. Having you send those resources to us is invaluable in supporting me as I introduce NVC in Nigeria, a country where NVC consciousness and skills are still very new and most urgently needed.....
In Nigeria today, we face what to me is a daunting challenge, because it appears religious, ethnic and political violence have become a common feature, in addition to the Boko Haram challenge, with suicide bombings, burning of churches, kidnapping of women and girls. Many of us fear for our safety. In the midst of these challenges, I feel blessed to be able to contribute towards a more peaceful Nigeria in my own small way through sharing THE NVC process." - Franca Onyibor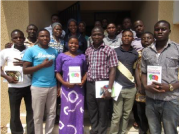 "What I want in my life is compassion, a flow between myself and others based on mutual giving from the heart." - Marshall B. Rosenberg

Youth leaders in Nigeria with their new copies of Marshall Rosenberg's Nonviolent Communication - Language of Life. They are taking the books back to their local villages to aid in their mission to bring peaceful resolution to the struggles in Nigeria.
RMCCN is a 501(c)(3) non-profit organization; all contributions are tax deductible. Donate today, help Franca spread NVC in Nigeria, and receive a letter from us expressing our deepest gratitude.
We wish to assure that all donations have the greatest impact possible in supporting Franca's work in Nigeria. To this end, we always check in with Franca before we make a shipment to make sure that the resources we send reflect her needs at the time.