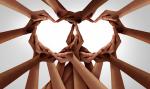 Accessible, Inclusive, Multicultural & Social Justice Focus Facilitator Preparation Program
The Intersection Between Social Justice And NVC
"Our survival as a species depends on our ability to recognize that our well-being and the well-being of others are in fact one and the same."
- Marshall Rosenberg
Do you use Nonviolent Communication (NVC) in your work or community and want more training, community and support?
Has NVC training been inaccessible due to the cost, time, or comfort?
Are you interested in the intersection between Social Justice and NVC?
This Community Based Facilitator Program is open to everyone and also accessible and inclusive for those of you who are from undeserved and under-represented communities and identities, i.e. racial & ethnic background(s), ability, age, religious/spiritual traditions, financial barriers, gender identity, sexual identity, or other groups. As a community, we will co-create your learning, practice and facilitation practice, enabling you to better contribute to your own well-being and to your organization, work and/or community. You will be able to become a Facilitator for Rocky Mountain Compassionate Communication. We hope to also support a pathway towards becoming a Certified Trainer with Center for Nonviolent Communication.
Our Circle Based sessions will provide a brave space to learn, practice, and apply:
Gain proficiency in facilitation skills based on the NVC model of Power With
Practice empathetic presence & authenticity in your personal, relational, and collective/communal interactions
Hold compassion & accountability in difficult conversations
Be engaged in an interactive NVC community that embraces a multicultural, social justice lens
Focus on social change, spirituality and the importance of living NVC consciousness with others
Organizing Informational Session
Saturday Sept 24, 2022
3:00 pm – 6:00 pm
Register at: http://events.constantcontact.com/register/event?llr=wgnndecab&oeidk=a07...
Lead Trainer: Susan Kaplan, MSW
In person and/or zoom options– to be announced
More info: Susan Kaplan kaplan@earthlink.net 720.280.2170
Register here so we know you are interested!
http://events.constantcontact.com/register/event?llr=wgnndecab&oeidk=a07...