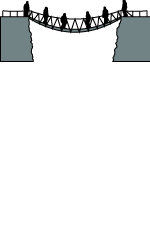 Equity, Diversity, Accessibility, and Inclusion
Using NVC Sensibilities To Build Compassionate Bridges Across Differences
"Our survival as a species depends on our ability to recognize that our well-being and the well-being of others are in fact one and the same."
- Marshall Rosenberg
Our unique contribution to healing and wholeness in our world is to infuse equity, accessibility, diversity, and inclusion work with the concepts and skills of Nonviolent Communication. We provide a variety of offerings to support social change efforts, such as:
Supporting social change organizations that are seeking a higher quality of connection and intention in creating access and welcome to all audiences, through inclusion assessments, trainings, and coaching.
Lifting awareness of marginalized groups -- who have experienced structural blocks to resources, social/political involvement and well-being -- based on race, gender, sexual orientation or identity, disability, socio-economic status, homelessness, or other traits.
Surveying under-represented communities to provide trainings and coaching such as: Skills and Awareness for Difficult Racial Dialogues, Healing Generational Pain, Community-Based Facilitator Development.
Key Learning Areas Include:
Understanding power, privilege, oppression and marginalization inherent in our Domination Paradigm and the effects on our humanity
Awareness and skills to support inclusion and to welcome a wide variety of voices
Cultural understanding and responsibility to support caring for our collective humanity
Supporting difficult yet important conversations around racial issues
Interpersonal and intra-personal healing and wholeness in our world: practicing and integrating a Partnership Paradigm for inclusive well-being
These programs are open to anyone interested in equity, accessibility, diversity, and inclusion as connected to Nonviolent Communication.