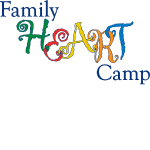 Summer Camp for All Ages!
"Community, like a gem, is multifaceted, each facet a mere aspect of a whole that defies description."
- M. Scott Peck, M.D.
Would you like to have an intergenerational community experience, in a camp setting, with opportunities for fun, play, learning, deep connection and support? What if you could have this experience for your whole family? Join Family HEART Camp for one of our incomparable programs, offered in diverse locations across the United States.
Each day at camp is an experience of meaningful community for people of all ages. We offer delicious and nutritious meals, community gatherings for connection and learning, high‑quality programming for all ages, as well as ample free time for rest and renewal. You will experience freedom of choice and self‑responsibility through Community Sourced Programing (CSP) http://www.familyheartcamp.org/camp-overview/25-staff-programming.html
, a unique program structure designed by Family HEART Camp. CSP offers a variety of options for fun, engagement and learning during each session, while providing the opportunity for every member of the community to contribute and participate.
Want to contribute to the camp community while developing skill and experience as an NVC practitioner and/or facilitator? Join us as a volunteer staff member! Our volunteers help create and hold the camp container and commit to be of service during the week, with mentorship and support from the core staff team.
Visit our website today to learn more about Family HEART Camp and our upcoming offerings. Subscribe to our newsletter http://visitor.r20.constantcontact.com/d.jsp?llr=wwnvztkab&p=oi&m=111091... to receive monthly updates to your e‑mail inbox. See you in the circle!
Program Length:
2‑7 days, depending upon program type and location
Event Type:
General Public Training
Work With Children
Family Program