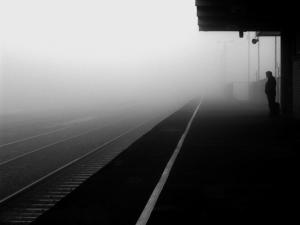 Melancholia Comes for a Visit
This feeling that I am experiencing, I don't even know what it's called -- sadness, depression, melancholia, the blues, nostalgia -- I don't know because throughout the decades of my life (before NVC) I didn't learn a vocabulary for these feelings. It seems like people in our culture aren't allowed to feel sadness or any of its shades (unless you have a really good excuse). It's sort of forbidden.
We are allowed to experience "negative" emotions vicariously through art, but not directly. If you feel this sadness, you are expected to go to therapy, take a pill, "cheer up,' "get over it," go shopping, have a drink, listen to affirmations, or at least explain why you are so "withdrawn."
God forbid that you might actually embrace it as if it were a natural part of the cycle of life. How will we keep the economy going if we can't convince you that there is something wrong with you and a solution that money can solve?
It's possible that this feeling of melancholia, and the need for solitude and rest, are trying to tell you something. But maybe it doesn't matter. Funny that no one ever asks, "What do you think your happiness is trying to tell you?"
And yet people insist that our sadness must be sending us a message… that it can't just be. There must be something "wrong."
Really?
Now, don't get me wrong. I'm not saying that there is no message or that I don't want to listen. I'm just saying that the feeling doesn't necessarily need to change. It can just be what it is for no other reason than that it is.
Accepting and embracing all of our emotions is a radical and subversive notion. I hope we don't get shut down for this.
We're starting an emotional revolution!