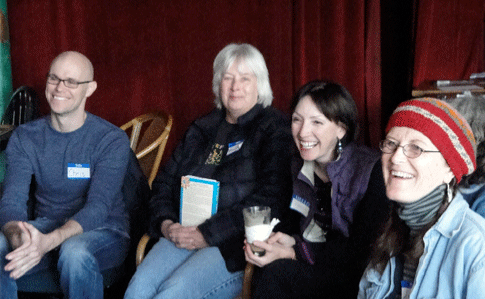 Walking The Talk

Marshall Rosenberg said, "The only way to learn NVC is to practice, practice, practice."
Weaving compassion into the everyday fabric of our lives requires building compassionate habits. Habits that evoke empathy and honor autonomy, habits that connect our heads and hearts, that embolden us to pursue our dreams and to express ourselves freely.
Habits are built through repetition and practice. Once instilled, they become automatic and enable us to respond effectively, even in crisis moments. We all have different learning modalities, preferences, and schedules, thus practice can assume many forms. At RMCCN, we are committed to supporting a diversity that meets a wide range of individual needs. Here are some of the resources available to help you cultivate a compassionate existence.
 
Attend a workshop
RMCCN offers a wide variety of workshops for individuals, organizations, businesses and schools. Check out the Community Calendar for news of upcoming workshops.
 
Join or start a practice group
We support ongoing practice groups in Colorado and the Rocky Mountain region. Some practice groups have individual facilitators, others are group facilitated, with people taking turns leading discussion and activities. Periodically, we also do practice group "matchmaking" to help people find or initiate practice groups. For more information, visit our practice group page.
RMCCN also offers a Facilitators' Practice Group designed to support people who wish to share NVC with others by facilitating practice groups, leading NVC workshops, or taking NVC into their organizations. Learn more »
 
Share NVC
Help us bring NVC to your organization, business, community group or school by sponsoring an introductory course or workshop. We offer dozens of programs, which our skilled trainers and facilitators can customize to the interests, age and experience of your group. Contact us for more information.
 
Connect through social networks
Follow RMCCN on Facebook, to share NVC resources and happenings with your friends!
 
Volunteer your time
We're volunteer powered, and we'd love your help! People contribute in many ways, such as helping with workshop logistics, promoting special events, contributing to social media discussions, building our resource library, and more. Contact us and let us know how you'd like to get involved; we have an ongoing list of volunteer opportunities, or you may create your own.
 
Discover online resources
The Center for Nonviolent Communication (CNVC) website has information about NVC, workshops, materials, local trainers, forums, links and much more.