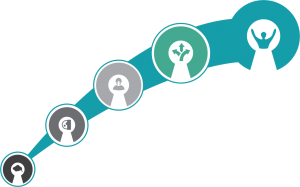 Sunday, February 24, 2019
Suffering is optional. But we can't get around pain. Why, when I get what I want does the euphoria wear off and then I trudge through life to finish the next thing that will get me high?
Attachment and expectation can leave us wanting.
Self-help philosopher Guy Finley said, "Freedom is not overcoming what you think stands in your way. Freedom is understanding that what is in your way is part of the way."
You may say, "Oh yeah, so true. I'm there with you."
Or do you want to punch the guy in the face? "Come deal with the shit that's standing in my way buddy and see if you can be philosophical then."
When we trudge through the thick mud, how do we keep an altruistic attitude about ourselves? I really don't know. I guess it's practice: spiritual and psychological. It's the way we talk to ourselves.
You would think creating would be fun. Maybe it is fun when you are painting with watercolors on a slow weekend. But what if you are expressing yourself at a higher level where there are more expectations, where you are trying to be compensated?
There are no rules in creativity unless you want fame and money. But sometimes the successful people break the rules. Which is it? Rules? No rules? It's frustrating. Maybe you don't have to slog through the muck. Maybe you can wipe the mess all over you and have fun as you go.