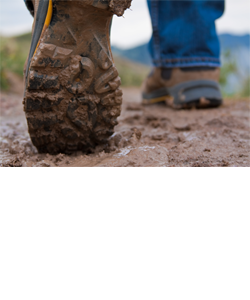 Walk A Mile In My Shoes - What If I Don't Wanna?
Empathy, Authenticity, Curiosity
Two Tuesdays April 27 and May 4; 6:00 to 8:00 p.m. MDT

"Your presence is the most precious gift you can give to another human being."
– Marshall Rosenberg
NVC focuses a lot on empathy. It also focuses on power with instead of domination and submission. What do we do in situations where we think we should be empathetic but we simply don't want to? Do we push ahead with empathy even if it lacks heart, asking the part of us not interested in empathy to submit? Does our desire to not be empathetic dominate the part of us that does? To empathize or not to empathize? That is the question. How do we hold both impulses in a power with partnership?
When we encounter an uncomfortable situation, can we get curious about what's happening instead of threatened by what we are perceiving? When we can shift anxiety to curiosity, empathy and authenticity partner to produce calm and connection where we bridge differences and cooperative problem solving emerges.
Learn practical skills for maintaining authentic connection to your own values while holding someone else in empathetic compassion, even in difficult situations.

Jacqueline Muller is a CNVC Certified Trainer, a co-founder of the Rocky Mountain Compassionate Communication Network, and a Restorative Justice Facilitator. She has worked with a diversity of people and groups in search of authentic expression and honest communication for 28 years. Her passion for justice and opportunities for all gives her teaching gusto and depth. Her outreach in offering NVC trainings extends beyond the Front Range to Europe and Africa. She concurrently facilitates RJ circles and supports individuals, couples, family members and groups, in her private practice, in creating clear, engaged, authentic communication.

David, poet, writer, and life coach, has studied and taught a wide variety of interpersonal communication skills over the last thirty years. He was introduced to NVC in 2000 and has been conducting trainings since 2009. Prior to his introduction to NVC, he studied with Anthony Robbins, Jean Houston, Deepak Chopra, and Gay Luce. He is a co-founder of the Rocky Mountain Compassionate Communication Network.
Walk A Mile In My Shoes: Registration Information And Online Enrollment
For more information about the program, or if you wish to pay by check, or make other payment arrangements, e-mail David Steele using the contact form below or call him at 303.596.6063.
Making this work accessible to anyone called to it, independent of financial status, is important to us. The standard cost is $80.00. However, we offer several contribution levels for you to choose from, including scholarships for participants who need a very low or no cost option.
Pick your level below and enroll today.
The scholarship option is at the bottom.